Sat, Sep 14, 2019
Hike on Mount Tamalpais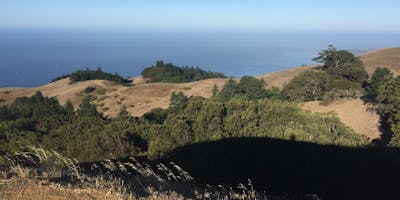 Mount Tamalpais State Park
Free
4 mile hike along the Bootjack and Rock Springs trails on beautiful Mount Tamalpais
About this Event
About the Host: Heidi (a fellow Revel member) lives in San Rafael and loves hiking around the Bay!
About the Hike: This hike visits two of Mount Tam's most treasured landmarks, the mountain theater and the West Point Inn, where we will stop to have lunch. There are good views and small waterfalls on this hike. Hikers should bring good shoes, sunscreen, hat and be able to do 600 feet of elevation. Please also bring your own lunch with you.
Directions and Meeting Location: Meet in Mill Valley in the rear parking lot of the CVS Pharmacy at 759 E. Blithedale Ave., Mill Valley, CA. After introductions we will carpool to trail head. Please note: Bring $8.00 cash for parking fee per car at Bootjack, this might be needed if road parking is not available.
Date & Time
Sat, Sep 14, 2019
10:00 AM to 2:00 PM
Location
Mount Tamalpais State Park
Mill Valley, CA