Mon, Aug 26, 2019
"Andy Warhol — From A to B and Back Again" Exhibit at SFMOMA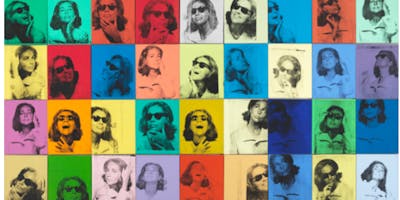 San Francisco Museum of Modern Art
$45.00
Group visit to the Andy Warhol limited-time exhibit at SFMOMA
About this Event
Don't miss the Warhol retrospective show "Andy Warhol—From A to B and Back Again" at San Francisco's Museum of Modern Art in its final two weeks! Explore the show's three floors with a group leader and other Revel members curious about this influential contemporary artist who died in '87.
About the Host:
Revel inaugural member and visual artist -- Ilona Sturm – has spearheaded this museum visit in order to share her insights about Warhol's work, and incite conversations and reactions to his work. Ilona Sturm (wwwIlonaSturm.com, Instagram: nelzya8) is a painter and photographer and teaches art at Berkeley Adult School. She loves leading cultural excursions.
Agenda:
Arrive at MOMA and skip the lines. Our group of Revel members will enter the show together in a timed-entry. Enjoy the show by responding to the work in informal discussions, meeting new members, and better understanding this artist's contribution. Warhol's iconic imagery plays with history. How do you respond? For art-lovers seeking a fun museum experience.
For those who have time and are interested, the group can grab lunch at the museum cafe after the show.
Ticket price includes entry to the Warhol exhibit, general admission to the museum, and personal exhibit tour by host Ilona.
Date & Time
Mon, Aug 26, 2019
10:00 AM to 12:00 PM
Location
San Francisco Museum of Modern Art
San Francisco, CA