Fri, Oct 4, 2019
Filoli Gardens Tour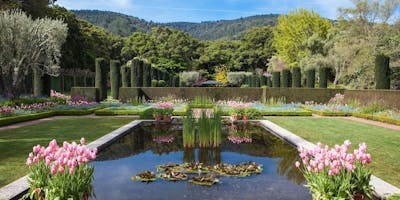 Join us for a group tour of the Filoli House and Garden
About this Event
About Filoli Gardens: Located off of Canada Road in Woodside, Filoli was built for Mr. and Mrs. William Bowers Bourn II, prominent San Franciscans, whose chief source of wealth was the Empire Gold Mine in Grass Valley, California. Construction of Filoli began in 1915 and the Bourns moved into the House in 1917. Bruce Porter, a talented stained-glass artist, painter, muralist, landscape designer, and art critic, was enlisted to help the Bourns plan the layout of the extensive formal garden that was built between 1917 and 1929.
Tour Admission: Throughout the season, Filoli offers various "Specialty Tours." We've bought six tickets ($15 each) to a Specialty Tour titled, "The People of Filoli." During this 90-minute walking tour of the House and Garden, newly uncovered stories of Filoli staff are brought to life. The estate took a community of people to create and sustain, and was built as a labor of love by many people – most of whom migrated or immigrated to the area to build a better life. The tour includes a behind-the-scenes visit to the historic staff vegetable gardens and living quarters. The tour begins at 2:00pm and ends at 3:30pm. Once the tour concludes, we will stay at Filoli as long as we want to explore the gardens as a group.
Filoli Admission not Included: When you arrive, you'll need to separately pay for admission to Filoli Gardens. Admission is required to access Filoli for Specialty Tours. Admission can be purchased online with your tour tickets, or at the Visitor Center upon arrival. Admission costs $22 for adults and $18 for seniors (65+).
Where to Meet: Once you've purchased your Filoli Admission, meet us just beyond the Visitor's Center at 1:45pm to walk over to our tour.
Date & Time
Fri, Oct 4, 2019
1:30 PM to 4:00 PM
Location
Filoli Gardens
Woodside, CA